Reflections on a year of UoBCC chess from the outgoing president, Rasi Kahane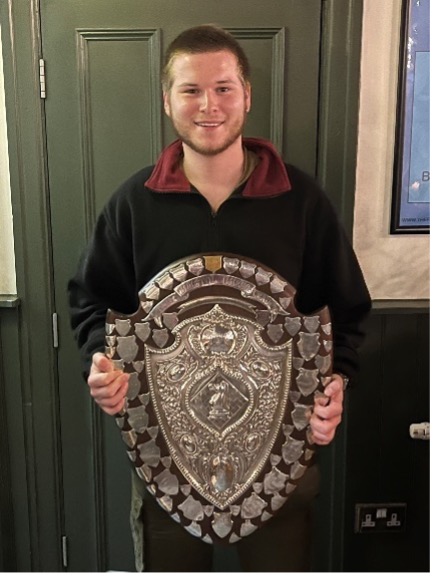 Acting as president of the Chess Club this year has been an honour and I have thoroughly enjoyed every second of it. I am very proud of the achievements we made during this year.
In this article, I will begin by briefly reporting on the recent AGM and social, before looking back on some of the highlights of this year. I will then give the annual awards for various achievements throughout the year. I will finish with thanks and closing remarks.
AGM & Social
Last Wednesday (15th June), we descended upon the Cross Hands (home of Downend and Fishponds Chess Club) for the league's Annual General Meeting (AGM). The meeting consisted of reports from each sitting member of the LMC, trophy presentation and voting on motions to alter the league's laws.
We were awarded the Bristol Chess League trophy for winning the top division for the first time since 2004/5. We eagerly await the engraving, which will see the 2021/22 UoBCC A team etched into the history books (*cough* Jerry *cough*). The A team battled to the end amidst fierce competition and at times with the feeling that everything was against them. Nevertheless, a near-flawless 25 points out of 14 games, with our only loss and draw coming under controversial circumstances, saw us pull away from the competition. It is testament to the incredible level of competition we overcame during the season that the final standings finished so close.
Well done to the A team for this fantastic achievement!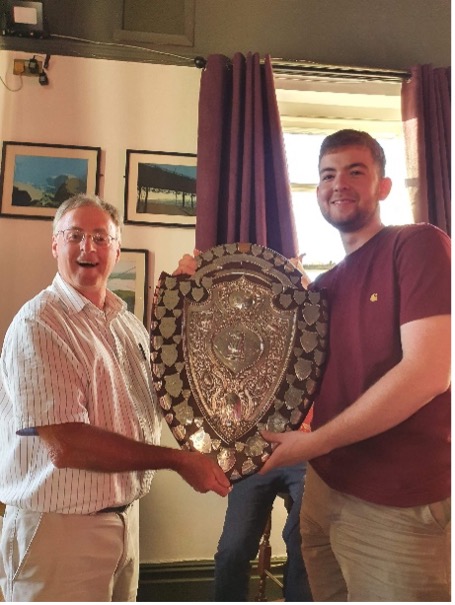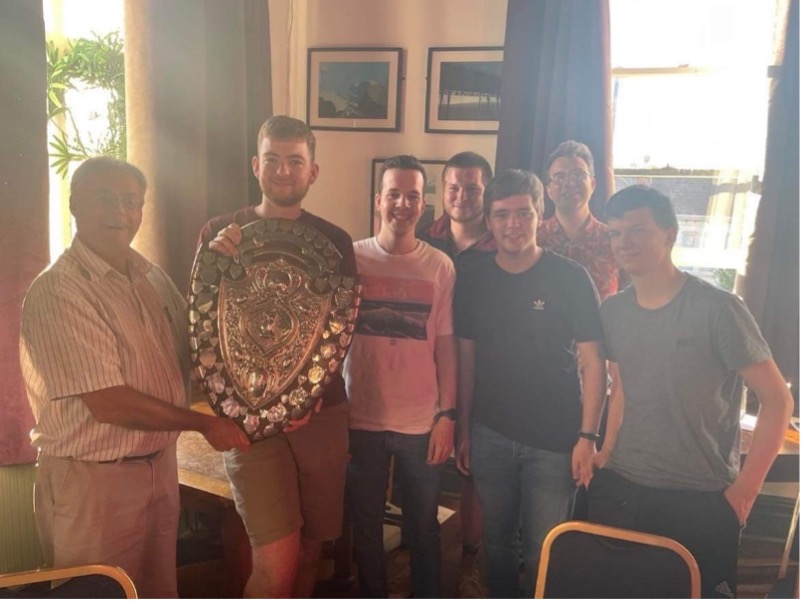 Well done to the following players for their contributions towards winning this trophy:
Alex Belsley, James Clarke, Dan Savidge (C), Dan Varney, Ian Gallagher, Tom Shepherd, Fergus Skillen, Stan Roynon, Rasi Kahane (where would we be without all my losses this season?), Jonas Zurba, Dorian Schiefer.
The AGM continued to the motions. Motion one was the contentious problem of playing up to a senior team which had been a point of confusion during the season. The debate boiled down to determining the extent to which a club with multiple teams in the same division can have crossover between teams. I.e. When is it okay for a B team player to play for the A team? Unfortunately, the debate became rather politicised, at times feeling a bit like a Downend vs. University debate. To my mind, the AGM motion attempted to replace an outdated playing up/down rule with one which would bring the league better in line with other similar leagues across the country. However, there are advantages to the current rule, particularly that absences do not end up depriving strong players of a competitive match. We were pushing for a rule which would make it more difficult to tactically play very strong players in both the A and B team.
I'd like to remind my readers that we support this rule in the view that it would protect the general interests of fairness and sportsmanship. We certainly are not accusing any other teams of any malpractice.
We were heavily outnumbered, with only six university representatives present. Debate was spirited and I am glad we were able to make our points heard. Alex Belsley was particularly forceful (but fair) with his points, and I'd like to thank him for taking the time to go to the AGM. We scored a small victory after a narrow vote which came down to a deciding vote from the chairman, although I still believe that the league must do more to prevent the use of tactical substitutions when a club has more than one team in the league. I hope in the future we will see the laws more greatly reflect the spirit of fair competition which we were arguing for. If I were rewriting the rules, I would make it clear that either you have two equal strength teams in division one, and heavily restrict crossover between these, or you play one A team of your best players and one B team of your next best, and illnesses can be filled in by players from the team below. But that's just my two cents.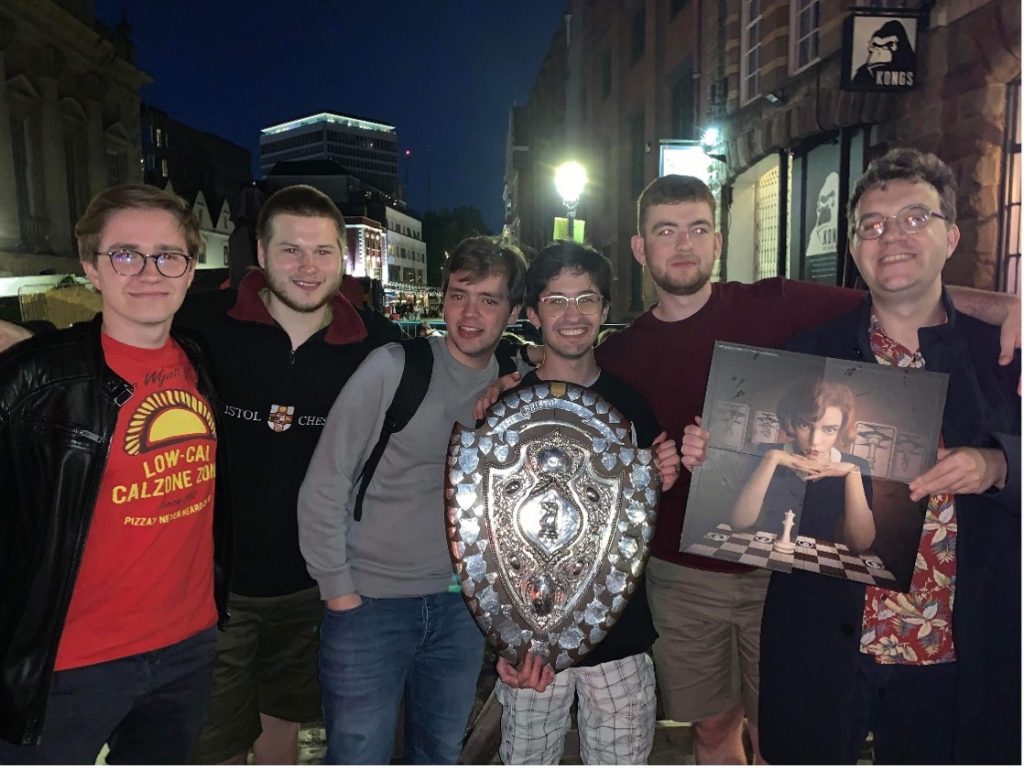 Perhaps next year we host the AGM in the Richmond Building. Then it's anyone's guess what might happen…
After the AGM we went out to celebrate the only way we know how… at pub chess Wednesdays at the beer emporium. The trophy was a great hit, people were posing for pictures with it and coming up to ask us about our season. We even got a free round of shots to celebrate, thank you Beer Emporium!
The trophy is now safely being stored in the SU office of the Richmond Building, which is open 9-5pm weekdays if you would like to go see it or get a photo.
Highlights of the year
The year began with a flying start, having both give-it-a-go sessions packed out and seriously testing the limits of the Gromit room's capacity. We rode the waves of chess' rise in popularity stemming from the success of The Queen's Gambit and from covid lockdowns steering many former chess players back to chess. We ran out of boards the first few weeks because of excessively high demand and over the course of the year we had more than 150 members sign up. That's got to be a record!
The enormous growth in membership meant weekly social chess sessions were as vibrant and busy as they've ever been. Conor was telling stories of previous years in which you could count on one hand how many people showed up. Those days felt long in the past this year, with busy social chess sessions and many of the same faces showing up each week. They really helped foster a sense of community in the club.
The fleeces were another achievement that I am very proud of. We had never had the 15 interested members needed to get official UoB merchandise before this year, and we capitalised by ordering 25 fleeces that allowed our members to smartly show off their club affiliation around town. We even had one lucky member receive an anonymous briscrush about them thanks to their fleece. I am excited to see what merch the club gets in the future… perhaps a smart jacket like Nick Pert's.
Which brings me on to the simul. What a successful event in many respects! The strength of play from the club had one of the country's best players struggling at times, and 2/26 is a great final score for the club. It was an event that brought existing regulars at the club closer together and allowed for fresh faces to get a taste of what the club is all about. The social afterwards was also an exciting highlight, and I hope next year there will be more non-chess socials happening at the club.
The simul was not the only special event the club put on during the year, the expansion of the club's event repertoire was one of its greatest accomplishments during the year. Pub chess became a regular fixture on Wednesdays, we held a number of blitz tournaments during the year and the outdoor chess events showed promise (both the bbq and at goldney). It's a shame the weather got nice after people started leaving for the summer!
Finally, the success of our AGM was very gratifying. So many of you were interested in joining the committee that it was hard to find roles for everyone. We have a strong group of committed chess players with exciting ideas and plans for the running of the UoBCC next year. I am excited to see where the club goes under new management, and proud of what I and the rest of the committee have achieved during this year. If the committee doubles in size year-on-year we must have been doing something right?
End-of-season Awards
Now to the moment you've all been waiting for, my picks for the UoBCC Awards 2021/22.
I took care to mention as many members as I could in my picks for the end of season awards, but naturally I likely will have missed out on noteworthy players and moments. I'd like to thank every member of the club whether mentioned or not, for contributing to what has been an unforgettable season. Thank you. If I could give every member an award, I would. But then they'd all be worthless. So, without further ado…
A team player of the season: Dan Varney
A tough category to start with, after such a fantastic season. The choice clearly comes down to Dan Varney (11.5/13) and James Clarke (9.5/13). Both impressed and I'd like to congratulate James on his strong performance, very impressive considering James has been filling in on top board and playing tougher opponents than Dan. Nevertheless, I've gone with Dan because he's been the more ruthless player, often winning against his opponents straight from the opening. Our season was defined by dominance on the lower boards, and Dan lead the charge throughout.
B team player of the season: Jonas Zurba
Controversially, the C team finished higher than B team in the final standings. The captain will have some questions to answer for that one, but I award him B team player of the season for his individual play. I feel that Fergus is too good to make it into this category, despite an excellent 3 out of 3 score for the B team. Dougie, Bence, Seb and Freddie also had perfect records, albeit in fewer games. Asha scored an impressive 3.5/5 before going on placement for the second half of the year. Jonas gets my nod with a score of 3.5/5. Jonas showed much improvement over the season and really silenced the doubters who said he only signed up to be B team captain so he wouldn't lose his playing spot. Married women of Bristol watch out, Jonas is our B team player of the season.
C team player of the season: Seb Skalski
Again, lots of standouts in this category. Stan had a perfect record for both the A and the C team this season, a solid achievement, but maybe he is too good to win CTPOTS. Thanks to Dougie for captaining and for an excellent 5.5/7 season. But I've gone with Seb skalski for his goliath 2183 tournament performance on 4.5/6. Also well done for winning the Minor Knockout tournament with Bristol Grendel, Kudos!
Most improved player of the season: Fergus Skillen
James is obsessed with chess and probably actually improved the most but I think players with more room for improvement than him deserve this accolade. Jonas was excellent and dedicated to improvement and if I had chosen him for MIP, it would've been a true testament to how crap he was when he started (sorry for all the jokes Jonas x). Fergus takes my vote. A draw (that was really a win) with a GM and a decisive victory in the title-decider-last-game-of-the-season are two results which sway me.
Social player of the season: Dorian Schiefer
Many memories come to mind when I think back on good moments from the socials… but there can only be one winner. It came down to Ian for drinking 6000 different beers over the course of the year, and Dorian for the numerous baked goods. Dorian gets my nod and is well worth recognising for his contributions to social chess this season! Ian you should probably get help…
Game of the season: Dan Savidge vs. Oli Stubbs (Downend & Fishponds B)
Incidentally, Oli's game against James was another that popped to mind for this category. James' game was memorable because of the spectators rather than the chess though. I was there to witness Dan's game and boy did he get me sweating! Last game of the season. Title on the line. Dan playing a strong opponent. Dan pulled off a beautiful long-term tactical sacrifice, which at the time I judged to be crazy, dubious and wrong…ah hindsight! We had much debate in the back about his game but in the end, under the pressure, the captain delivered the goods. 
One to watch next season: Julien Astier & Tom Shepherd
Both picked for their high potential if they get studying over the summer and also look out for the events they put on. The committee are brimming with new ideas for next year, so stay tuned to see what they and the rest of the committee have in store.
Thanks, and Closing Remarks
As we started today by talking about the league AGM, I will begin by thanking the LMC for putting up with my emails and helping to iron out problems and confusion we have had during the season. I would also like to thank them for putting on such a competitive season, with few defaults and many teams competing despite unusually difficult circumstances. They have done an admirable job. 
I'd like to thank this year's committee, Dan Savidge, Conor Newton, Asha Jina, Dougie Buchanan and Jonas Zurba for all their help and support throughout the year. We were a small committee for such a large club and we certainly wouldn't have achieved everything that we did if we hadn't done it together. So, thank you! I'd also like to thank any non-committee club members who helped with the organising and running of the club this year, particularly Ian, for his great match reports.
Finally, a HUGE thank you to all the members for their participation in socials, events and matches. This year I think we've all made cherished friendships, had some fun and enjoyed some chess. What a year.
Best wishes to Tom Shepherd, who will take on the role of president next year, and to the whole committee, I can't wait to see what you have in store!