After many months of chess, the fate of Division 1 came down to a single match. Going into the final round, University A knew that even a 2.5-3.5 defeat would enough to win the league; anything worse than that would hand the trophy to Downend A, hence an incredibly strong Downend B team looking to spoil the party. The match had already been delayed a month due to the university breaking up for Easter, meaning that the tension had slowly been creeping amongst the A team chat group. Could they win the league after getting promoted from Division 2 the previous season? Yes. Yes, they could.
It seems pointless trying to build up an exciting narrative for the evening when almost everyone reading this report will know the outcome unless you are the one outsider that comes here for the informative chess insights. Why?! They are thousands and thousands of more useful sites out there. I once posted a picture of a man slapping an egg talking about pierogi. If you are instead here for that kind of thing, then I apologise for the chess that may appear in the remainder of this report. To tide you over, here is a photo of next year's president doing his first ever Jägerbomb, or Jägertom, if you please.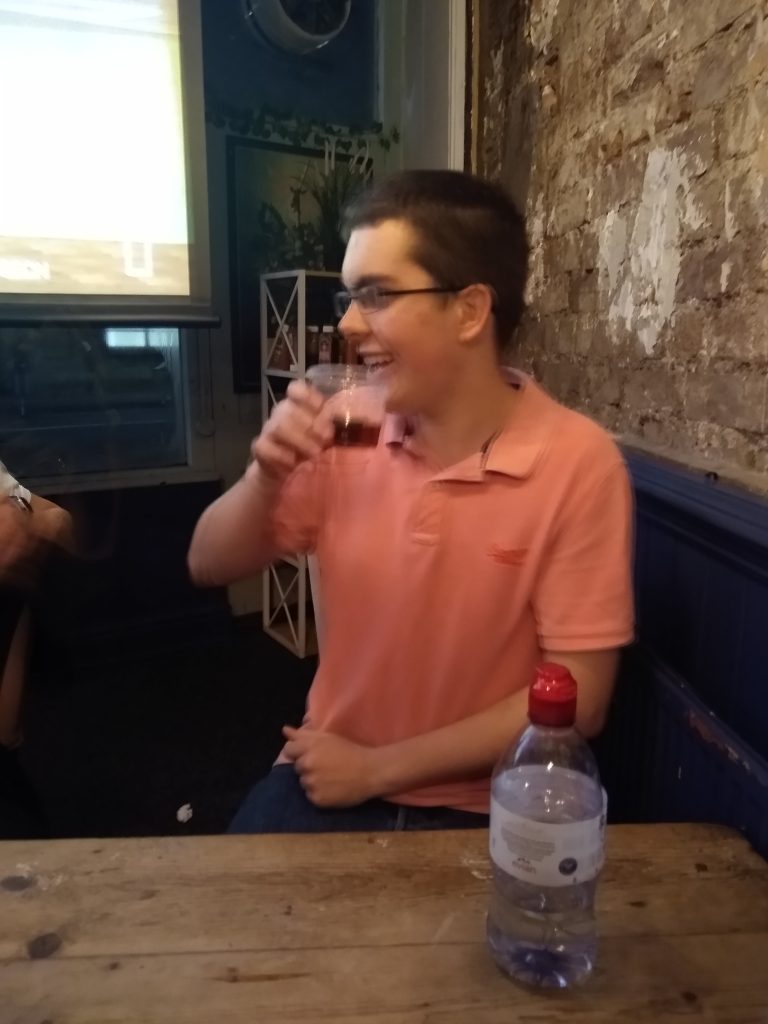 Many interested players from University and Downend turned up to watch the key match dominating opposite sides of the Gromit Room before battle commenced over the boards in the centre. Preparation was someone defenestrated when two new faces appeared in the Downend ranks showing just how keen they were to win for their A team. Personally, I panicked and played 1…Nc6. The University broke the tension early with a dream start after Dan Varney's opponent fell into an opening trap in the Caro-Kann, but a tidy conversation as Dan is often ruthless with the initiative.
Despite the extra pawns, White has to be somewhat careful that the Black pieces don't drum up too much activity and the excellent 23.Bg5! is the best move to keep everything under control. 23…Nc6 24.Bxe7 Nxe7 25.Nc5 kills off any hope for Black. An amazing season for Dan scoring 11.5/13 and a key reason for our success.
Next to finish was Dan Savidge with a beautiful long-term attacking sacrifice cramping with opponent's pieces. With this win, the University had a 2-0 lead and only needed one more draw to win the league. It was an absolute dream start and a dream way to get there.
We arrive at the above position after French Advance variation, a Dan speciality that you think someone would have warned his opponent about beforehand. Black has just played 15…h6 tempting White into a sacrifice surely inspired from playing Bughouse in the pub the night before. 16.Nxf7! Kxf7 17.Qf4+ Kg8 18.Ba3 For the piece, Black's piece are incredibly restricted. Not only is the rook on h8 not getting into the game any time soon, both knights are practically stuck on the back rank meaning the other rook is also boxed in. 17…Qa6 18.Bb4 Qa4 19.Nd4 Be8 Even after this clever manoeuvre, Black remains tied up in knots. 22.Bc2 Qd7 23.Re3 Nc6 24.Nxc6 Understandably, White wants to keep his unopposed bishop, but there was a direct win by ignoring the threat with 24.Rg3! Nxb4 25.Qf6 Qf7 26.Nxe6. The game move is still strong and doesn't detract from the brilliancy. 24…bxc6 25.Rg3 Qf7 26.Qh4 a5 27.Bc5 Rb8 28.Rb1! Trading off Black's active pieces only leaves him with passive lumps of wood. 28…Rxb1+ 29.Bxb1 Qb7 30.Qf6 Qf7 31.Qd8 Black could see nothing better than 31…Nb6 returning the piece when White soon won. The point is if 31…Qd7 32.Rxg7+ Kxg7 33.Qf6+ Kg8 24.Qf8#.
Despite these victories, the tension still lingered, and I caught myself pessimistically thinking we could still lose this match 2-4. However, very aptly, the new president Tom Shepherd got the key draw to clinch the title. That's probably the only interesting moment from that historic game, more Horlicks than Jägermeister, so let's move on.
With the division wrapped up there was still pride at stake for the match bragging rights. James Clarke lost on top board after missing a tactic that lost two pieces for a rook after investing too much time earlier into the position. Despite this loss, another great performance this season, stepping up to the top boards and scoring 9.5/13 giving his rating a much-expected boost.
Fergus Skillen's opponent clearly understood the remit for the match and went all-out against the English with an early h5 and f5 trying to open White's kingside. Fergus responded with a h4 and f4 of his own and chaos ensued. Black lost control in the mutual time pressure, although nothing is smooth in such wild positions with the advantage potentially slipping from White's fingers. Lucky for Fergus, he held on to convert the position and win the match for University A. I finally succumbed to a loss after my aforementioned panic in the opening getting a piece trapped in time trouble, although finding a way to string out the game, and the match finished 3.5-2.5 in the university's favour.
Great to finish the season with a win against arguably the strongest opponents we faced. I would have taken a 2.5-3.5 defeat, but it really shows how far we have come as a club. Congratulations to everyone, especially the 11 legends that played for the A team, Alex, Dan S, Dan V, Dorian, Rasi, Fergus, Ian, James, Jonas, Stan, and Tom. My time at the club has been a rollercoaster after watching the first team getting relegated in my first year, but I'm very glad to see us at this point of the ride with happily a few more years to go. Guess that means I'm still writing these reports.
After the match, Jonas whipped up a bottle of Champagne the same way he whips up inside jobs, before heading to Spoons and the old regular White Harte for a celebratory drink with our many well-wishers. We celebrated the only way we know how, showing off our games and discussing interesting lines and ideas. I look forward to doing it all again soon drinking questionable mixtures out of that trophy.