As the final term has drawn to a close it seems appropriate to acknowledge some of those who have distinguished themselves in more unusual ways throughout the year. So here is a summary of the Chess Club's most notable, and sometimes eccentric, moments.
Pre-move of the year:
This first honorary mention goes to f4nomore (Jake's opponent) pictured below, who reached this opening position in our recent Ukraine Appeal ECF Arena Challenge. White tactfully manoeuvred his bishop to Bb2 after the moves 1 b3 g6, attacking a rook stationed in the opposite corner of the board. The black player had (perhaps unwisely) already decided that their dark squared bishop would also like to occupy the same diagonal (2 … Bg7), and as a result lost two kingside pieces and the game in short order. A cautionary tale for us all that Jake's hypnotic powers can operate both over-the-board and online.
Resignation of the year:
Giving up a chess game in style is a skill that many have attempted but few have truly mastered. At our Peter Wells Simul event in November, Merlin Juusola, first to go down against the GM, set a stellar example by announcing his decision to the surrounding players so that we could capture the moment first hand. There wasn't any substantive prize attached to this accomplishment but since Merlin is also my flatmate, I've bought a spare wooden spoon for our shared kitchen that he is welcome to use at any time.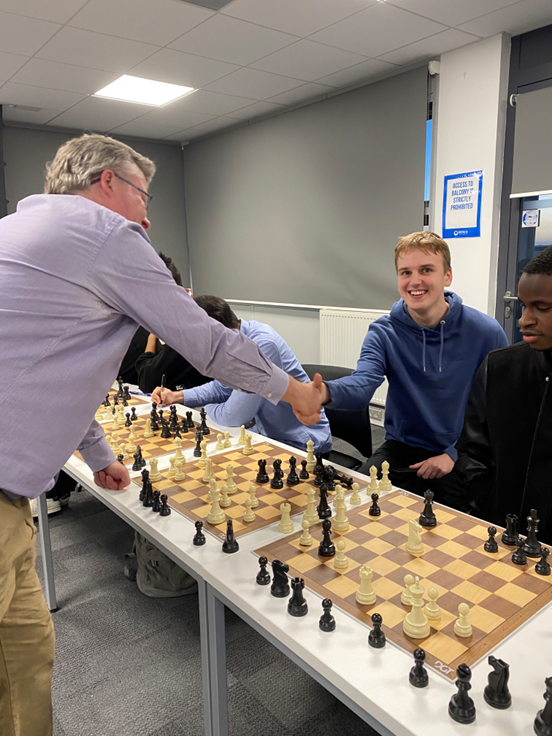 Game of the year:
There were many great candidates here, but James Clarke's win over Clifton IM James Cobb stands out as the slight favourite. James C (the first one) managed to employ some original opening preparation as he developed a strong initiative, culminating in a breakthrough with the spectacular 40 Bxe6. The team's victory in this match also contributed to our A team topping Division 1 for the first time since last year (😂😂 Downend Chess Club), representing another tremendous achievement for the whole squad.
A team player of the season:
Another close call but the winner is Zachary Lee with an impressive 8/12. Ian Gallagher came close with a barnstorming +7 score, rolling out the occasional cheeky Scandi to great effect. However, this time he was narrowly trumped (or Tromped) by a consistent display that saw Zachary going up against some of the strongest players in the league and coming out with a 2304 performance rating. And if that wasn't enough to contend with, he also had to navigate through Temple Meads Station after we briefly lost him en route to Bath.
B team player of the season:
In a season that saw the B team finish 2nd in Division 2 and secure a promotion there were many strong performances, alongside some unorthodox diversions involving phones and fire alarms. Nevertheless, Julien Astier scrapes through as the top candidate with a 8.5/12 score. In addition to his efforts in the B team Julien has also been an invaluable presence on the committee this year, both as Treasurer and an organiser of numerous events at the Club.
C team player of the season:
The strongest performance here was from Samson Main with a perfect score. We're also very excited to provisionally announce that Samson will be joining next year's committee as the new C Team Captain!
Best Beth Harmon:
Only two individuals were eligible for this prestigious shoutout on account of their fancy dress choices at November's Halloween Night in the Balloon Bar. There was little separating them initially (because they both look identical) but the prize goes to Jonas Zurba, since he wore the exact same outfit to the Bristol Autumn Rapidplay the next day and likely horrified some OAPs in the process.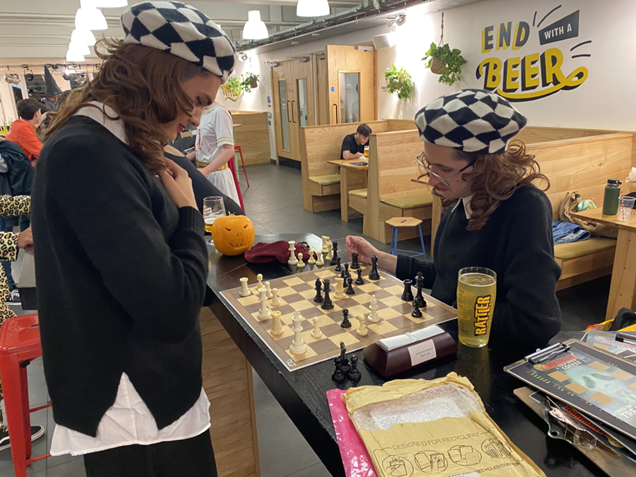 Closing remarks:
Taking on the position of President has been the most incredible experience, especially as chess is undergoing something of a worldwide revival following the Covid-19 pandemic. What has been particularly encouraging to watch is how we've begun to gain traction with a broader and more diverse demographic; at a few points during the year I've been struck by the Club's capacity to create new opportunities for upcoming players. My hope is that this trend can continue in the years to come.
There's never a natural place to end these reports, but it somehow seems fitting to return to where the year began: with Dan Savidge holding a team trophy and pretending that he won it all by himself. Enjoy the rest of the summer and we hope to see you back soon!