The university first team was vastly different to the previous years with three new players taking up the mantle. A change of pace for University A, usually playing in the second division in the Bristol league, to titled players abound. Daniel Savidge was the sacrificial lamb on Board 1, with the Alex Belsley, Bristol Champion taking responsible on Board 2 over myself on Board 3, going against converted ECF grading. Daniel Varney was also there on Board 4.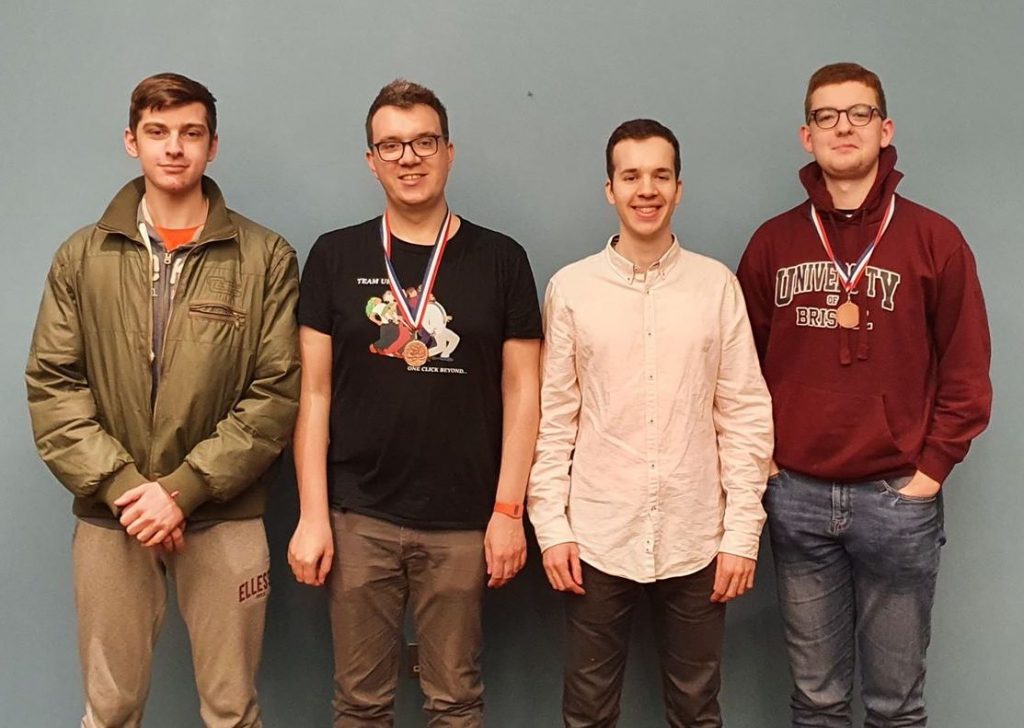 All games were broadcasted live on chess24 with a third of the support online for Bristol University, one out of three comments. All the games can be replayed at the link below but we will talk about some of the tournament highlights in this report.
https://chess24.com/en/watch/live-tournaments/2020-buca-championship
Round 1: Bristol 1 0.5-3.5 Cambridge 1
Being seeded sixth in a division of ten, the first game was always going to be tough against the top seed in the tournament. The grading difference meant that we went for complications early in positions where we probably should have played it safer. Daniel Savidge and I went down swinging launching kingside attacks that ultimately went justified given our positions from a cheeky Dutch and Scandi respectively.
Alex managed to create chaos like lighting out of clear blue sky, although in mutual time trouble missed an unbelievable shot to draw a game against an IM, he ultimately had no right in taking.
In the mutual scramble, White has turned a misplayed opening into pure randomness. Black's next move gave Alex a chance of pulling off a most unlikely draw. 31… f5? 31… Kxg7 seems safest as we shall see that this pawn is dangerous. 32. Rxa7! Possibly Black missed this tactic. The queen is decoyed away from the defence of g5. 32… Qxa7 33. Qh8+ Kf7 34. Ng5+? Certainly natural, but after this move Black return some material to stop the attack. 34. Qh7!! holds a draw in the craziest of variations. 34… Ke6 35. g8=B+ because why not? 35… Rxg8 36. Qxg8+ Kd7 37. Qf7+ Kc8 38. Qxa7. Now the rook makes sense! The pawn on c2 means that White cannot play for more than a perpetual.
Daniel Varney stuck to his guns and played his standard Smith-Morra Gambit. At one point he was even a pawn up, but he played well for Bristol to at least salvage something from the match.
Round 2: Bristol 1 2.0-2.0 Exeter 1
Ignoring the pedestrian Oxford vs Cambridge match on tables 1, the south-west derby was clearly the highlight of the round. Just ask Ian Witt on chess24. A team with a high average rating helping massively by another titled player on Board 1 for Daniel Savidge. He was rightly disappointed to lose another game after blundering in time pressure in a worse, albeit saveable, position.
On the remaining boards Bristol outrated their Exeter opponents but with two blacks. Alex never had a chance for any aggressive intentions in his game against Eddie Hurst, who played a really solid game. Credit where it is due, sometimes your opponent plays so well that you can't do anything. Dan Varney was much more disappointed, with a solid advantage in a rook and pawn ending. His opponent misplayed and traded rooks to go into a lost king and pawn ending. However, Dan was too keen to capture his opponent's weak pawns and let White promote a pawn. Luckily, Black was also promoting but there was no escape from the checks in the resulting queen endgame. A huge let off for Exeter.
My game was the last to finish with a win needed to tie the match. A positional advantage from a 2… d5 Trompowksy, after White had removed the bishop pair, left Black tied down to a backward c6 pawn while also trying to block a passed a-pawn. My task was helped with my opponent's time trouble, eventually blundering pawns while I slowly found the correct plan.
Round 3: Bristol 1 2.0-2.0 Southampton 1
I don't remember the beginning of the final round on Saturday too well after being bombarded with 15 moves of Scandinavian theory in the first 20 minutes. My opponent had actually gained time on the clock. I later learnt during the Blitz that he plays the opening himself on the Black side, rather than being on the receiving end on some deep preparation and it is a miracle I lasted as long as I did.
A miscalculated tactic in the middlegame had left me an exchange down with some play, although I had counted too much on tricks with the only knight on the board. For the second straight year, I was the recipient of an unbelievable stroke of luck.
White had won an exchange with a kingside tactic but the tiniest amount of attacking chances kept me going in a team match. In my time pressure, and after five minutes thought, White was too keen to exchange queens. 35. Rc5?? Ng3+ Suddenly it dawned on my opponent of what he has done. If 36. hxg3 Qxe3 gets the Black queen out of rook's attack. After the alternative 36. Qxg3 Qa1+ leads to mate on the back rank so White resigned.
Sadly, Daniel Savidge once again lost in a Leningrad Dutch, although, this time there was potential for an equal game, which is a bigger burn that it sounds. Things were looking good on the other boards. Alex had won a pawn from his opponent's dubious opening and had weathered the storm to eventually win the ending. Dan Varney once again trusted his Smith-Morra Gambit against the Sicilian and was probably lucky to get his attacking chances after leaving the pawn on c3 for a little too long. After a misplay, his sacrificed material was good enough for a perpetual, but in a noble and misguided attempt to win, the extra material took its toll. Another drawn match, this time with all decisive results, but Bristol University had underperformed to finish the day on two match points.
A short trip to the only eating establishment (restaurant is too strong a descriptor) within walking distance of the airport hotel was better than any other possibility. They must have thought it was Christmas with so many chess players descending on the place. Makes a change from Bob and Lynn staying at their B&B before heading off to their holiday to Benidorm. The connoisseurs' curry choice was good but with the surge of numbers meant that a few players missed the first round of the Blitz. This seemed to suit Dan Savidge, as after his first-round default, and second round warm-up, he won the last seven rounds to claim bronze with 7.0 out of 9 and not anything too drastic. Dan Varney finished with 6.0 but was fighting for the top positions the entire time. It was a good reminder that we could all play chess and put us in good spirits despite the late night
Round 4: Bristol 3.0-1.0 UCL 1
Finally, a result for the university! Jovin had overheard one of their players stating that Bristol would be an easy win, so it was extra sweet to have a convincing win over them. Perhaps, it was the pot of hot chocolate Dan Varney had with breakfast with two extra sugar lumps stirred in. Every Bristol player was pretty well prepared. Dan Savidge had an Advance French against the strongest IM at the tournament, happily taking compensation for the two pawns gambit. Alex Belsley had approximately an hour to his opponent's 15 minutes as she played a Caro-Kann. Dan Varney had his standard Pirc although he made sure to side-step any preparation and I was up on time despite his accidental 5-minute power nap in the bathroom.
The results can thick and fast in the time trouble. Dan Varney won his ending after controlling the only open file despite the bishop vs knight. Alex won, when his opponent was under a minute for most of the end, overpressed on the kingside and let her own king suffer on the queenside. I, not realising a draw was enough for us to win the match, refused a draw offer, and was immediately rewarded with a mistake however the conversion wasn't 100% the smoothest. That left Dan Savidge to battle on in a dead rubber although he had lost the compensation for the two pawns. Despite this he was so close to saving the game with perpetual check in a queen ending but time trouble took hold in the end. Ultimately, very resourceful play from the IM to win often by playing solely off his 10 second increment.
Round 5: Bristol 1.0-3.0 Oxford 1
A horrific match up, being upfloated to the only team on a maximum 8 match points out of 8, despite only have 4 match points ourselves. A win here would put us in contention with the European spots but that would require us to do something that no other team had accomplished all weekend. A better pairing against another side on 4 match points would have given us a great shot.
Being massively out rated on all was the perfect bookend to our opening match against Oxford. Things looked promising for me when a Trompowsky gambit looked to give me strong attacking chances but a very early misplay in the opening meant I was always playing for tricks. Daniel Savidge finally got his reward when he held the Oxford top board to a relatively easy draw. It was good to finally see him get some points on the board as he did not deserve to finish with zero. Daniel Varney also finished with a draw, but losses elsewhere meant the match finished in Oxford's favour.
Overall, a middling performance by Bristol, finishing exactly as seeded in sixth place. We can certainly feel hard done by playing Oxford and Cambridge, but we did not perform against our lower rated opponents. The luck of the draw may have given us a shot at Europe. Even harder to take as UCL, the only team we beat, finished in fourth. However, with so many new players, this side can hopefully improve with tougher opposition in Bristol division 1 next season. I won a bronze medal with my 3.0 out of 5 performance on Board 3, Alex Belsley and Daniel Varney scored 2.5 on Boards 2 and 4 respectively. Daniel Savidge was also there on Board 1.