Thank you for reading this first ever Bristol University Chess Club Newsletter! We have decided to start publishing a fortnightly newsletter to keep everyone up to date on our latest achievements, events and activities. The letter will be published here and will be emailed out to our mailing list. Make sure to follow our Facebook page to stay up to date as well.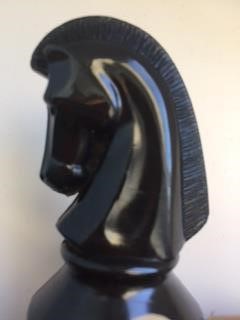 League Standings
For those who don't know, we have 3 teams in the Bristol and District League, in the 2nd, 3rd and 4th divisions. Our A team is currently placed at second in the league, with a vital match against the leaders Thornbury on Thursday this week. After being demoted from the 1st division last season, our A Team has been fighting hard to stay at the top of the tables to earn promotion for next season. This hard work has paid off as the team has not yet lost a single match. A special shout out to regular player Alex Vaughan who is currently sitting on an impressive 5/5! A Team Captain, Ian Gallagher, writes reviews after each match, which include some game fragments and key positions, as well as some entertaining inside thoughts. These reports can be found on our website.
The B Team are also doing well, currently sitting at 3rd in the tables and undefeated. Many new players have been grabbing points in every match and several regular C team players have moved up the ranks to join the second team, Daniel Owusu to mention one. New member Chris Kaye has particularly proven himself with 100% record on 3/3.
Success is also in the air for our C team who are currently joint 1st! Captain Jovin Halim has been fielding dynamic players for his 4-board team and has enticed many novices and new players to start playing competitively. Regular strong players this season include Michael Baugh and Sebastian Skalski, who have been playing well and are continually improving.
If you are interested in playing for one of our teams, please don't hesitate to get in touch with any of our 3 captains: Ian Gallagher (A Team), Oliver Clarke (B Team), and Jovin Halim (C Team). Good luck to everyone in their upcoming matches!
Grandmaster Simultaneous Match
Our most recent club event was a huge success with a great turnout. Grandmaster and 2019 Scottish Champion Matthew Turner very kindly agreed to pay us a visit and challenge 20 of our members all at once! All involved enjoyed the challenge and despite the GMs strength, Bristol Uni managed to get 2 points off him (one win and two draws). A huge congratulations to Jonathan Kermode who took the GM down. Ethan Luc and Evan Sakiotis also managed to get points for the University side, wrestling Matt to a couple of draws. A huge thank you to Matt for agreeing to attend and put up with us for the evening. We hope to run another GM simul at some point after the New Year. The full event report can be found on our website: http://143.110.165.255/2019/11/18/gm-turner-vs-bristol-university/.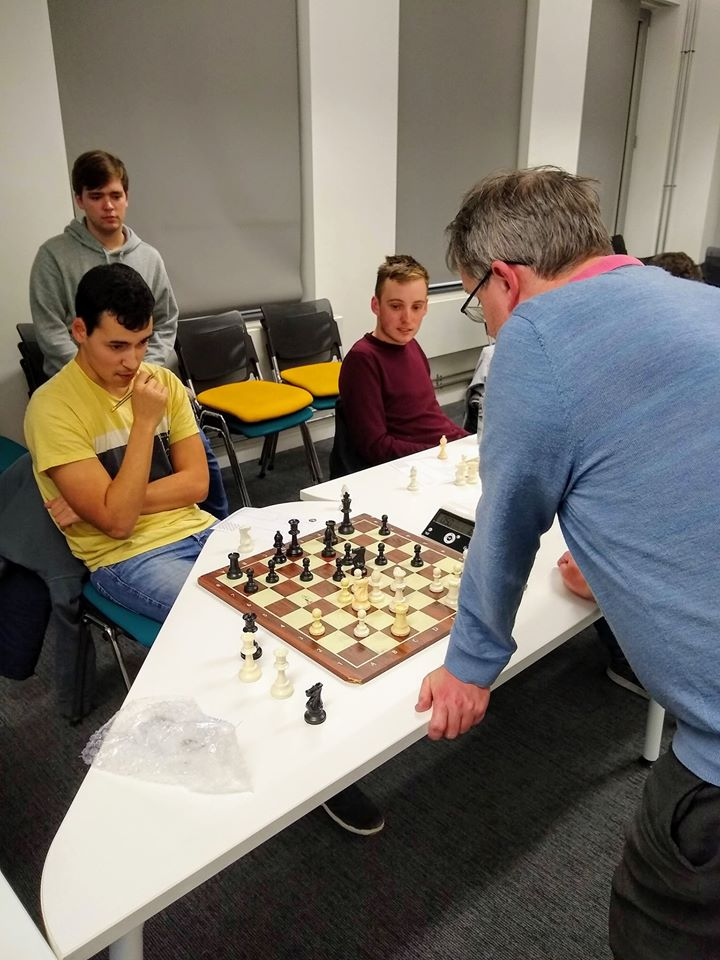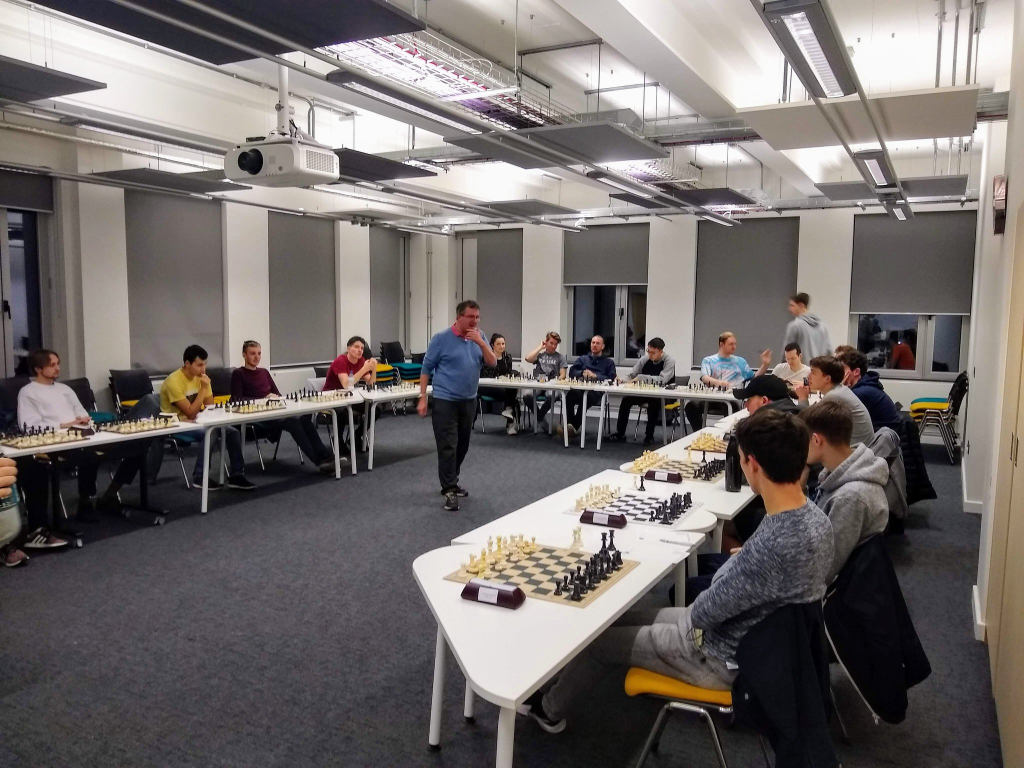 2nd Bristol League Open Blitz Championship
On Sunday 24th November, a Blitz tournament was held in Bristol Grammar School, open to everyone. The time control of 5 minutes + 3 second increment meant that players would have to be on their toes for some sharp and quick-thinking tactics. Our club turned out a strong group of players, totalling 13. Daniel Varney, Marc-Antoine Campana and Daniel Savidge all came joint first out of the university players all finishing on 7.5/11 each. Daniel Varney and Daniel Savidge won grading prizes, though some would argue that they were slightly under graded. Alexandre Belsley also put in a strong performance finishing on 7.0/11 and beating IM Chris Beaumont on round 7! Full results can be seen on the tournament website: http://chess-results.com/tnr479263.aspx?lan=1. Well done for all who took part and we hope to continue seeing such strong university turnouts in local events.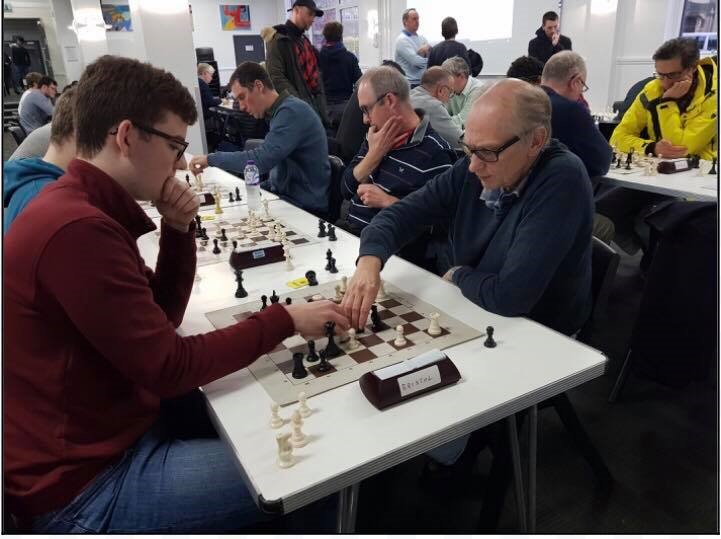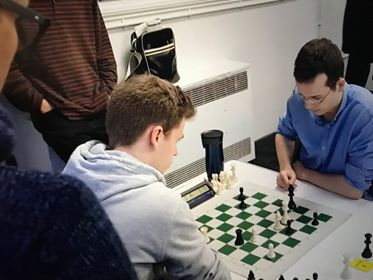 Still to Come!
Chess Film Night:
7th December, 8pm, Gromit Room, SU
We will be screening Pawn Sacrifice, a film based on the life of Bobby Fischer and his challenge against top Soviet chess grandmasters during the Cold War and culminating in the World Chess Championship 1972 match versus Boris Spassky.
This event is FREE for everyone and non-chess players are welcome too!
https://www.facebook.com/events/535466263896264/
Christmas Meal:
We are in the process of trying to find a good deal for a Chess Club Christmas meal for members and committee to get together before we all break up for Christmas and exams. More details of this to come shortly, so keep an eye out on our Facebook page.
Looking Ahead…
BUCA 2020
The BUCA (British Universities Chess Association) championships are fast approaching, taking place in February 2020. This event is a highlight in the chess calendar and involves a weekend of chess against university teams from across the country! Last year we managed to field a strong side of 20 players, a record for the University! We hope to match (or break) that record this year so we will be recruiting players as soon as we enter the New Year. If you would be interested in taking part in this event, please contact one of the committee members as soon as possible.
Non-Chess Social
Our first non-chess social will happening in January, taking place in White Harte followed by Lizard Lounge, with a significant bar tab, yet to be announced… Keep an eye out on our Facebook page for further details nearer the time.
Puzzle of the Fortnight
A game ended 5. Ke5 Qa5 mate. What were all the moves leading up to this early finish? Solution to appear in the next newsletter. (Credit: Pablo's Armchair Treasure Hunt)
That's all this time folks. We aim to release a newsletter once a fortnight with all the latest news and event information.
Saturday meetups run as always during term time from 8pm in the Gromit Room at the SU. All are welcome.
Remember, club membership is only £10 for the year and allows you to play in league matches and grants free entry to University Chess Club events. Membership can be purchased on the SU website: https://www.bristolsu.org.uk/groups/chess-club-b553.